IR News
【PARK24 Co., Ltd. 】PARK24 Announces Loan Refinance for the SPC Times Asset Securitization
TOKYO, Japan, September 28, 2006 -- PARK24 (The Company) announced that the Company completed the refinancing procedures for its SPC Times assets, which were removed from its balance sheet under the securitization scheme implemented on September 28, 2001. It came to the due date of the loan repayment.
Currently, the Company has implemented 2 separate securitization schemes, and the one refinanced today was the first asset securitization in parking service industry in Japan, including 24 Times parking facilities under operation. Upon the refinancing procedures, the trustee of the beneficiary rights is replaced by the Sumitomo Trust and Banking Co., Ltd. and the lender of the non-recourse loan is the ORIX Corp.
The Company utilizes the securitization schemes in its SPC Times segment of the Times operation. In this segment, the Company first purchases land properties and builds parking facilities, either flat or multi-level. After operating the facilities for certain period of time, the Company implements securitization schemes, and by continuously refinancing the scheme, the Company retains high capital efficiency and maintains longer, stable operation of Times parking facilities.
The Company's ST (Standard Times) segment operates on the land properties borrowed from individual land owners. Therefore, the cancellation of the land lease contracts due to the owners' various reasons are inevitable, and it is the most crucial business risk for the Company. The Company aims to establish ideal business portfolio by actively promoting the TSP* segment as well as the SPC Times segment, since both are less likely to be cancelled compared to ST segment.
The Company will strive to continuously expand its Times business with various development methods and high capital efficiency, so that the Company is able to contribute to more comfortable automobile society by filling unmet demands for parking services.
*TPS (Times Partner Service): Converting customer parking lots attached to commercial entities into Times, which is available for any drivers and open 24 hours a day.
Scheme Diagram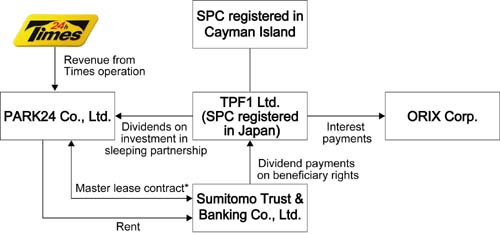 *Note: The master lease contract covers all the lease contracts for flat, ground-level parking facilities, apartment building, and multi-level parking buildings