President's Message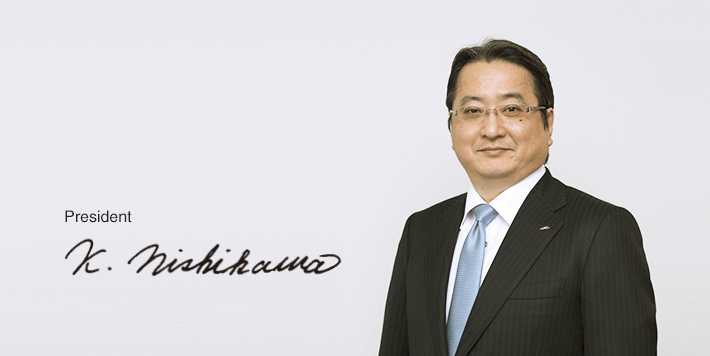 PARK24 GROUP will continue to create new forms of comfort that meet the needs of today and tomorrow through the renewal of its corporate identity (CI) and brand identity (BI) and the relocation of its head office as we strive to achieve sustainable growth.
We offer our sincere prayers for those who lost their lives in Typhoon No.19 in 2019 and our deepest condolences to their families. We also express our sincere sympathy for those affected by the disaster and truly hope that the impacted areas recover as quickly as possible.
Thank you for your valued patronage.
In 2021, the PARK24 GROUP will celebrate its 50th anniversary.
Ahead of this milestone in May 2019 we undertook a renewal to redefine our CI and BI, including the corporate philosophy, slogan and Times logo that represent values shared across the PARK24 GROUP. Additionally, our head office was relocated back to Gotanda (Shinagawa-ku, Tokyo), where PARK24 was originally based.
In regard to business, the Group seeks to expand the four networks of people (members), cars (mobility), communities (destinations) and parking facilities and create new services that seamlessly connect those networks.
Under these circumstances, the Group is embarking upon a number of new challenges, including the installation of new payment machines at Times PARKING in the Parking Business in Japan, the full-scale development of "Times CAR," a new mobility service integrating the rent-a-car and car sharing services in the Mobility Business, and the expansion of the "Times PAY" cashless settlement service in new businesses. In the Parking Business Overseas, the Group is also focusing on improving the operation and management of parking facilities and entering into new markets by developing new services.
We believe that all of these initiatives will become the foundation for the Group to continue growing beyond 2021 and over the next 70 to 100 years.
The business environment surrounding the Group has been experiencing major changes in recent years with the emergence of new mobility concepts and rapid advances in technological innovation on a global scale, including the shift from ownership to usage, automotive IoT applications, changes in vehicle fuels, and autonomous driving.
Even in these times of rapid change, we will marshal the technologies and expertise of the PARK24 Group that have been cultivated since our founding in 1971, as we strive to deliver the comfort demanded by people and the times while achieving sustainable growth.
I would like to thank you for your continued support and invite you to anticipate even greater things from the PARK24 Group in the future.