Promotion of health and productivity management
Extended healthy life expectancy, the era of 100-year lifespans is approaching. Business operators are expected to rebuild the economic and social system based on the concept of people being active throughout their lives.
In response to the changes of the times, PARK24 GROUP has been improving its working environments to ensure that employees from diverse generations can retire in good health both mentally and physically.
Taking the position that emphasizing the health of employees and their family members will become more important within the Group's management challenges, we have decided that it is essential for the Group as a whole to adopt the concept of health and productivity management enhancement.
Health Management Declaration
Under the Group philosophy of "creating new forms of comfort and convenience by responding to the needs of today and anticipating the needs of tomorrow," PARK24 GROUP is striving to establish a working environment in which each employee can develop extensive experience, improve their expertise and demonstrate their capabilities. As part of these efforts, we will provide employees and their family members with an environment in which they can maintain and improve their health.
Through measures aimed at maintaining and improving their health, we aim to ensure that each employee is energetically engaged in operations with a satisfying mindset while maintaining high productivity. In addition, we will comply with laws and regulations related to employees' health and safety, and facilitate the creation of a comfortable workplace environment by highlighting the health of employees and their family members as one of the Group's important management challenges.
March, 2020

Target figures
1)

Enhancement of health awareness

(i) Ratio of employees who attend health education lectures each year : 100%
(ii) Number of participants in safety and health-related events each year: over 5,000

2)

Minimization of the number of employees with health risks

(i) Ratio of employees who have detailed examinations: over 75%
(ii) Rate of employees who smoke across the Group: less than 20%
(iii) Ratio of female employees who have checkups for cancer unique to females (breast cancer and uterine cancer): over 60%
System
Under the guidance of the manager responsible for health and productivity management, we have organized the "Health and Productivity Management Promotion Team" as a group-wide project, assigning health and productivity management promoters at facilities. By doing so, we are working to build a system to make health and productivity management initiatives more effective.
In addition, we are implementing a collaborative health initiative by maintaining contact with each facility's health insurance association in accordance with their measures.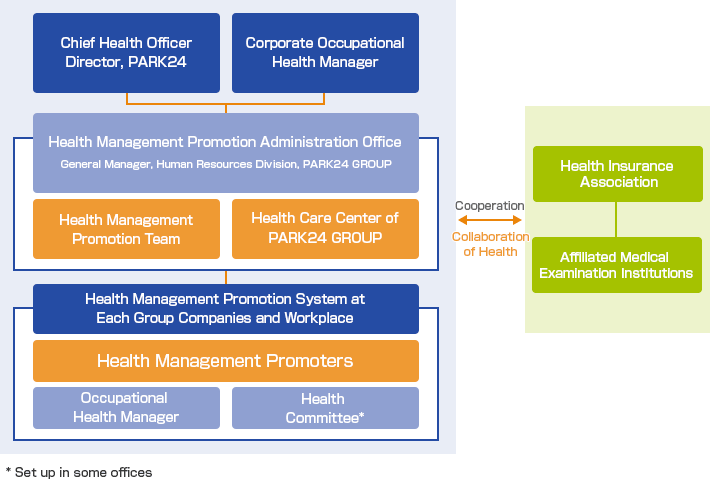 Related SDGs