Basic Policy
PARK24 GROUP 's Sustainability Policy
The PARK24 GROUP aims to achieve a sustainable society by simultaneously creating social value (contributing to solving social issues) and economic value (generating profit by improving corporate value) based on the Group's philosophy, "We create new forms of comfort and convenience by responding to the needs of today and anticipating the needs of tomorrow." In making these efforts, we will fulfill our responsibilities by understanding and acting appropriately to meet society's demands through responsible communication with our stakeholders (customers, employees, shareholders, investors, business partners, government, local communities etc.)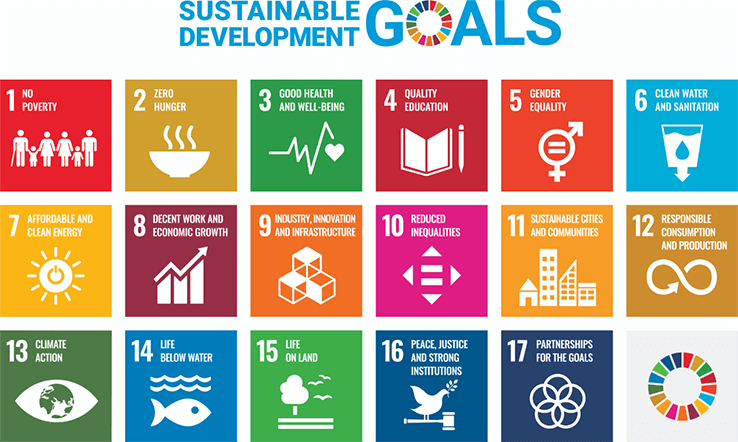 Environmental Policy
The PARK24 GROUP recognizes that responding to climate change and other environmental issues is one of its important corporate social responsibilities, and that finding a balance between global environmental conservation and business activities leads to the sustainable growth of the Group.
As a transport infrastructure service company, we have established the following activity guidelines to ensure a balance between the provision of sustainable services and global environmental conservation and aim to create a convenient and comfortable society in cooperation with our stakeholders.
1.

We will contribute to the realization of a resource-efficient, sustainable society by promoting the reduction of greenhouse gas emissions, energy conservation, resource conservation, and resource recycling in mobility services, parking services, etc., and by expanding appropriate businesses. We will also strive to reduce energy consumption, appropriately manage waste, promote the 3Rs, and prevent contamination at our business sites.

2.

We will establish voluntary standards of conduct and strive for appropriate operation and continuous improvement.

3.

We will comply with relevant laws and regulations in every aspect of our business activities.

4.

We will disseminate our environmental policy to all directors and employees and strive to raise environmental awareness through environmental education.

5.

We will enhance transparency and reliability through appropriate information disclosure, such as the status of environmental initiatives, and actively communicate with stakeholders.
*3Rs: Reduce, Reuse, Recycle
Human-rights Policy
The PARK24 GROUP understands that the human-rights of all individuals affected by its business activities must be respected, and we believe it is important to promote initiatives that respect human-rights in accordance with the International Declaration on Human-Rights (the World Declaration on Human-Rights and the International Human-Rights Code), the Declaration of the International Labour Organization (ILO), the United Nations Global Compact, and the United Nations guidance principles on business and human-rights. If laws and regulations of the countries or communities we operate in differ or conflict from international human-rights norms, we will seek ways to respect internationally recognized human-rights standards within the scope of the laws and regulations of those countries or communities.
Based on this consideration for human-rights, we will promote diversity management that allows our company/organization to be a comfortable and rewarding place to work for, enabling all employees to share diverse values by making the most of their individual abilities.
1.

We will support and respect international norms of human-rights and promote efforts to respect human-rights.

2.

We will respect diversity and not tolerate any forms of discrimination based on race, ethnicity, nationality, place of origin, social status, gender, marital status, age, disability, religion, philosophy/belief, sexual orientation/self-recognition, and differences in occupation and employment status.

3.

We will not tolerate any forms of modern slavery including forced labour, child labour and trafficking.

4.

We will strive to provide our employees with a safe, hygienic, and healthy working environment. We will respect the right of union and collective bargaining rights of employees to facilitate discussions between labor and management, with respect to working conditions and the working environment. We will also comply with laws and regulations concerning working conditions, such as working hours and wages.

5.

We will strive to act based on the concept of human rights due diligence and aim to realize a society in which human-rights are respected.

6.

We will disseminate our human-rights policy to all directors and employees and provide appropriate education to ensure compliance with laws and principles related to human-rights. In addition, each and every employee will fully understand and respect human-rights, thereby firmly establishing it in our business activities.

7.

We will improve our human-rights initiatives based on this policy through dialogue with our stakeholders. We will also regularly disclose our initiatives and progress based on this policy through various reports and on our website.

8.

This policy applies to all directors and employees. In addition, we will require our business partners to conduct their corporate activities in consideration of human-rights based on this policy.
Anti-Corruption Policy
The PARK24 GROUP recognizes that compliance with laws and regulations, fair, transparent, and free competition, as well as fair and responsible business transactions, along with each employee's ethical work attitude will lead to long-term company development.
In all business activities, we will prohibit corrupt practices, conduct fair and transparent business operations, and comply with relevant laws and regulations in accordance with our corporate ethics.
1.

In order to prevent bribery with third parties, including business partners and government officials, we will strictly prevent the provision of improper conveniences and requests.

2.

We will provide appropriate education to all directors and employees of the Group to raise awareness of anti-corruption.

3.

As part of our internal control system, we will establish a network to prevent corruption, strive for appropriate operations, as well as maintain and administrate an organizational system to prevent bribery.

4.

Under an appropriate internal control system, approval documents for entertainment, gifts, payments to business partners, and accounting books are recorded accurately based on facts, and related forms will be properly stored.

5.

Any director or employee who violates these basic policies will be punished strictly in accordance with our employment rules.
Procurement Policy
The PARK24 GROUP recognizes the importance of promoting sustainability in the supply chain through sustainability management in line with its business activities.
We will establish the following Procurement Policy to build sounder relations with our business partners.
1.

When selecting business partners, we will make judgments in a fair and impartial manner by comprehensively evaluating the reliability of management and development capabilities in addition to quality, price, and delivery.

2.

We aim to build long-term relationships of trust, coexist, and co-prosper through mutual cooperation, and create new services together.

3.

We will comply with the Group's human-rights policy, as well as support and respect international norms on human-rights. We will also promote procurement that acknowledges the working environment of our business partners, along with their safety and health.

4.

In accordance with the Group's environmental policy, we will consider the impact of our business activities on local communities, biodiversity, and environmental pollution, as well as promote resource conservation and the procurement of materials with minimal environmental impact.

5.

In order to fulfill our duty to continually provide services to our customers, even in the event of natural disasters or other major socio-environmental changes, we will build a system that allows us to procure materials necessary for the provision of our services.